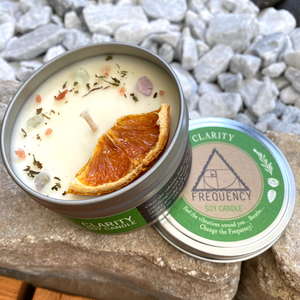 Each candle contains an entire 15ml bottle of pure essential oils! Clarity is an uplifting and energizing breath of sweet minty freshness. This complex blend of mint is tempered with a bit of lime to bring an extra boost of positive vibes.
This crystal soy candle is topped with pink himalayan sea salt, rainbow fluorite, spearmint and orange peel.
The candle is an all-natural soy blend with pure essential oils. Clarity essential oil: SPEARMINT (mentha spicata) ESSENTIAL OIL, LIME (citrus aurantifolia) ESSENTIAL OIL, ROSEMARY (rosmarinus officinalis) ESSENTIAL OIL, EUCALYPTUS (eucalyptus polybractea) ESSENTIAL OIL. Always free of dyes and synthetic fragrances!
8oz.

Made in United States of America