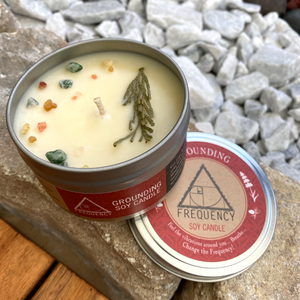 Each candle contains an entire 15ml bottle of pure essential oils! Grounding is a deep and earthy scent to help you reconnect with the earth and grow roots.
This crystal soy candle is topped with pink himalayan sea salt, tree agate, frankincense tears, dried lavender and paired with my grounding essential oil blend. The candle is an all-natural soy blend with pure essential oils.
Grounding essential oil blend: PATCHOULI (pogostemon cablin) ESSENTIAL OIL, CEDARWOOD (cedrus atlantica) ESSENTIAL OIL, FRANKINCENSE (boswellia serrata) ESSENTIAL OIL, ROSEMARY (rosmarinus officinalis) ESSENTIAL OIL, LAVENDER (lavandula) ESSENTIAL OIL ,Always free of dyes and synthetic fragrances!
8oz.

Made in United States of America