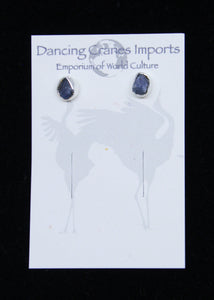 Beautiful Sapphire earring pair set in 925 Sterling Silver (including posts). These are a "get what you get" style of earrings (irregular*). This means each one is a different shape! There is a chance you might receive a naturally formed triangle, diamond, tear drop, oval, circle, or rectangle. The color of the stone may slightly vary as well, as each stone is unique!
Metaphysical Properties:

-"Stone of Prosperity"

-Aids Fulfillment of Dreams & Desires

-Protection Against Negativity